Located in Southern Utah, just 3 hours North of Las Vegas, lies one of the most prolific canyons in the North America—Zion National Park.
Zion is packed full of amazing day hikes, has world renowned sandstone cliffs that are great for climbers, and is home to the meandering Virgin River which sustains local wildlife. These features attract over 3 million visitors per year. Whether you are a nature enthusiast, hiker, climber, or photographer, the awe-inspiring canyon and red cliffs affirm why this park is a must see destination. We've put together a list of attractions that never disappoint when we visit Zion. We promise you will be rewarded with a view that will make you want to come back.
Did you know? The park is named after the Hebrew word "Zion" meaning "a place of peace and relaxation."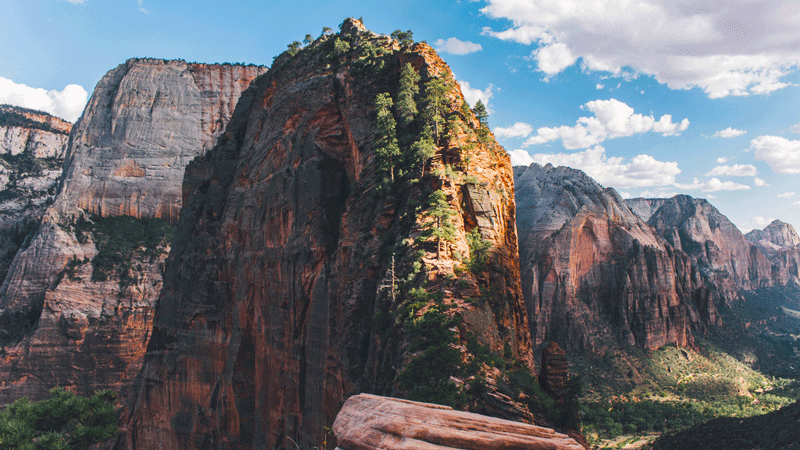 Angels Landing
Standing 1,488 feet above the Virgin River, this 5 mile hike is referred to by many as one of the most dangerous and thrilling hikes in the world. You will navigate switchbacks and exposed edges to be rewarded with a spectacular view overlooking the canyon. Due to unpredictable trail conditions, its advised that kids and anyone with a serious medical condition do not attempt this hike.
The Narrows
Be prepared to get your feet wet, as this unique hike has you navigate through the Virgin River in the narrowest part of the canyon. The walls of the gorge soar to a thousand feet tall on either side as the river flows around you. We recommend you hike upstream about 1.5 hours before heading back. For the thrill seekers, you may obtain a permit for a 16 mile downstream hike.  It's a good idea to discuss your plans with a Ranger before entering.  Bring hiking shoes that can get wet, along with dry fit clothes and possibly a bathing suit. Be sure to check the water levels before you go as it can fluctuate greatly by season.
Tip: Plan your trip to Angels Landing & The Narrows with MountainBased.
The Subway
The Subway is like a more intense version of the narrows, and requires a permit. It is a semi-technical hike through a slot canyon that requires wading, swimming, scrambling, climbing, and extensive route-finding. It's a good idea to go with an experienced hiker. Most canyoneers complete the hike from top down, which is a challenging 9.5 miles and requires some repelling.
The Watchman
An easy and pleasant hike, the Watchman trail is 3 miles round trip starting near the Visitor Center and leading to a viewpoint on a layer of cliffs about 300 feet high. It's a great place to stop for lunch while you look down at the visitor center below and Watchman Peak to the south. This hike can get hot in the summer so save it for a cloudy morning or another season.
Getting there
If you are coming from afar, we recommend you fly into Las Vegas as the least expensive option. Either drive yourself or connect with our guides at a hotel located on the Las Vegas Strip and let us do the planning.
Read more about this experience here.
What to bring
Zion National Park has a range of temperatures based on the season so make sure you dress in layers. And with over 300 sunny days per year don't forget the sunscreen! Due to the warm temperatures and dramatic elevation gains, you'll want to bring plenty of water to ensure you stay hydrated throughout your trip. (View packing list here)
Where to stay
For those looking to camp near the park, Watchman Campground is only ¼ mile from the south entrance. There are 176 campsites, and 6 group sites providing water and electricity year-round. Watchman provides beautiful scenery as you are nestled among wooded trees and the Virgin River. For those not looking to camp out, there are numerous hotels in Springdale to choose from. Try: Hampton Inn & Suites and Desert Pearl Inn (Important: These reservations will go quickly during the summer months). If you don't mind driving a little outside the park there is a gorgeous ranch—Zion Ponderosa Ranch Resort—located 30 minutes from the park that offers spectacular cabins, hotel rooms, and even campsites.
Where to eat
There are an abundance of restaurants in Springdale to feed your appetite after a long day on the trails exploring Zion's incredible canyons. If you are looking for a quality meal, quick service and an adult beverage, Bit & Spur located just outside the park is a local and tourist go-to. For those who prefer to order tasty sandwiches and salads or pick up their own groceries we recommend Sol Foods Supermarket and Deli.
Important: Before hiking or climbing ask a Ranger at Zion National Park about trail conditions. Also refer to the Zion National Parks trail conditions page located here.